We got home from our trip late Saturday night and have been playing 'catch up' since. It's tough adjusting back to reality after experiencing the majesty of the Canadian Rockies for 10days.....not to mention sleep deprivation!!! We had to be at the airport, both ways, by 4:00AM; that meant getting up at 3:00AM!
This post will be a synopsis of our trip, as I got little to no stitching done, so if you're not in to that, feel free to pass. Our trip began in Vancouver where the temps were in the 70's!!! I had planned on much cooler temps. This is downtown Vancouver with Canada Place as a backdrop. The city is very modern and VERY clean!!! We were quite impressed.
We had a bus tour of the city and stopped at Stanley Park for a peek at some lovely gardens and views of the city.

Then it was on to the train...oh boy!!! I was initially disappointed that we weren't on the train the whole trip, BUT, after one night of uncontrollable giggles, one night was quite enough!!! It was an experience, and I'm so glad we had it, but the compartment is soooooo tiny, it really was hard to even get dressed. Poor Rich took the top bunk and struggled to even get in it. He got up early, climbed down and crawled in next to me, begging repeatedly to "please don't make me go back up there"!!! We were laughing so hard, we were crying!!! It was FUN, but so happy to stay in hotels after.
There was about a foot between that ladder and the wall.


First stop after the train was Jasper...what a lovely town.....we saw our first elk right across the street from our hotel. We took a cruise on Maligne Lake.

And a raft ride down the Athabasca River.
We had the best tour guide, who really wanted us to have a great experience. Since our train was 2 1/2 hours late getting into Jasper, she wrangled us free trips on the Jasper Sky Tram. We were anxious about the ride, but we DID it and I'm proud of us!

The next morning we were off to Lake Louise with a stop at the Athabasca Glacier.
Now we're getting some cooler temps!




What we rode in to the glacier. At one point we had to go up/down a road on a 32 degree angle...very steep!!!


Here I am filling my water bottle with glacial water.....sadly it tasted like smoke due to the wildfires there in Canada.




Shot of glacier at a distance; it has and is receding rapidly.

We switched things up due to impending bad weather and visited Moraine Lake on our way to Chateau Lake Louise.
The colors of the waters is spectacular...photos don't show the richness of blue. Evidently the minerals that are deposited in the waters reflect all colors but blue/green, so the waters take on a turquoise cast.



What can I say about the Chateau Lake Louise....sumptuous!!! We had a fantastic meal there and the views.....wow!!!

The Chateau at Lake Louise
View from hotel

Walking trail around Lake Louise

From Lake Louise to Banff. This is where we had the most free time to explore on our own. We had a picnic lunch in a park, visited a museum about the indigenous people, the Stoney Nakodas (more about that in a future post), and walked the downtown shopping area.
Looking into downtown Banff
The Banff Springs Hotel from Surprise Corner

More elk sightings down the hill from the hotel

We spent two nights in Banff, then on to our final stop in Calgary, with a stop in the charming town of Canmore followed by a visit to Boundary Ranch for a delicious steak lunch....no need for dinner after that!!!

Our last two nights were spent in Calgary....another vibrant city. Our final night with the tour (we stayed an extra night) was spent with a dinner at Heritage Park and entrance to Gasoline Alley...a spectacular display of restored classic cars. The guys were in heaven!!!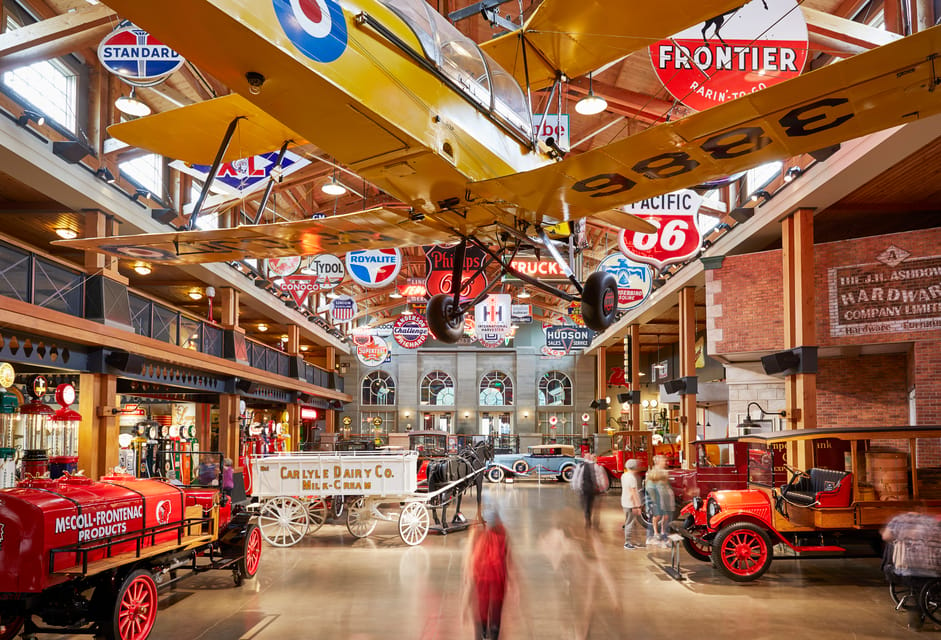 Our extra day was spent walking the streets of Calgary. We walked to Fort Calgary and past the main public library...how beautiful!

Stock photo from library website

I loved the "bobbing" birds!
Video didn't turn out well, but these "bobbed" up and down
We wound our way through the maze of the Plus15 Skyway, which are walkways between buildings where you are protected from the weather.
Even the manhole covers were cool!
We put in over 22000 steps this day, as well as two other days on our trip...lots of walking despite riding on the bus between stops.

The Calgary Tower was right across the street from our hotel.
Overall, we were very impressed with Canada...it was clean, welcoming, multi-cultural and eco-friendly. The scenery was spectacular...photos don't do it justice. I will end with a couple shots of the wonderful flowers that were in every town....so bright and vibrant...and our traveling companions...my brother and sister-in-law.

Thanks for stopping by and your "twisted threads" of friendship..it is good to be home!!!
Stasi