Greetings friends!!! I am home from my travels to the Nashville Needlework Market and pumped about all the new designs/designers that I saw there. I am so grateful to Sara and Sally for asking me to help out this year and making it such a special experience for me. It was such fun to reconnect with old friends and meet new designers;
it's a LOT of eye candy to take in and becomes a bit of a blur after 3 days, but so inspiring!!!
There were 130+ designers/vendors exhibiting over four floors of hotel rooms.
Here is how it works for those who don't know. This is a wholesale show, open only to shop owners. It is held in an Embassy Suites because of their great set up. Their rooms all go around the perimeter of a large atrium and each designer has a suite. They usually sleep and have extra stock in the bedroom section and set up their wares/displays in the front area. Most have banners that are hung on the railings letting you know where they are located.
Sorry, the banners are so hard to read!
There are classes on Friday for attendees then some early bird shopping Friday evening (some designers will open Friday night but not the majority). Saturday the shopping begins in earnest with some shop owners standing in line to be the first to get new designs or limited editions. This is a sticky point for a lot of shop owners because you can't be in 10 different places at once, but it seemed there weren't a lot of these this year and if the designer ran out, you could still order and get them sent later. Sunday, shopping continues until the show closes at 4:00. I accompanied Sara on the floors, then ran the items up to Sally, in her room, for pricing when our pull cart got full.
I brought home a few things, but will pick most up in two weeks when I go to Salty Yarns for Catherine Theron's weekend. Sally and Sara gifted me these as a thank you:
I picked up a few spools of vintage seam binding from Kathy Barrick and some Glorianna silk floss, which I'm thinking may be for my next iStitch SAL.
Since some of you were interested in what caught my eye there, here are the items I ordered from Sara: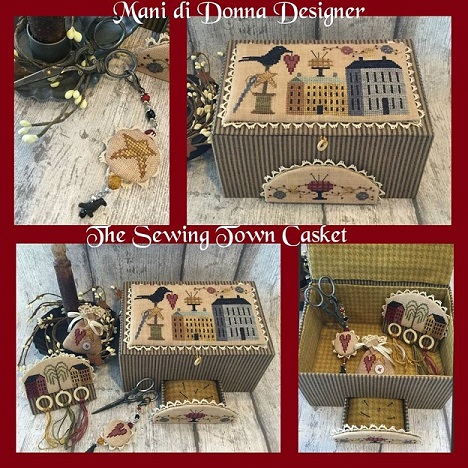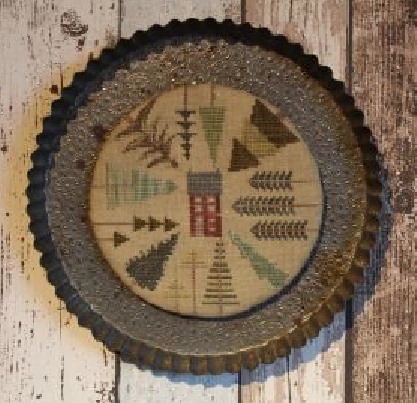 Little Cabin in the Pines by Thistles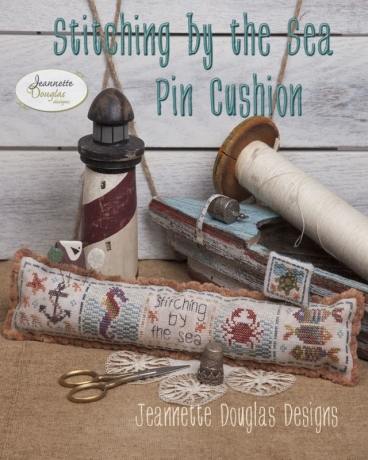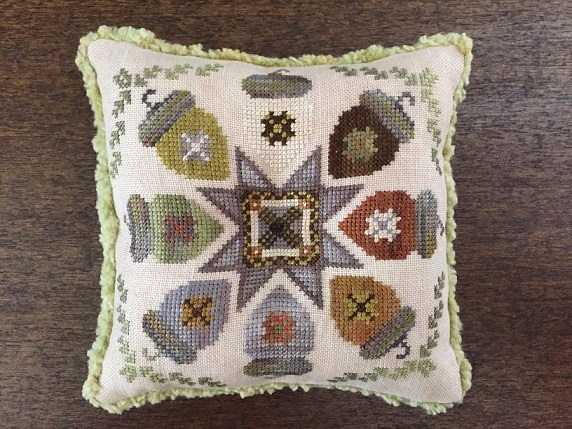 Autumn Acorns by The Blue Flower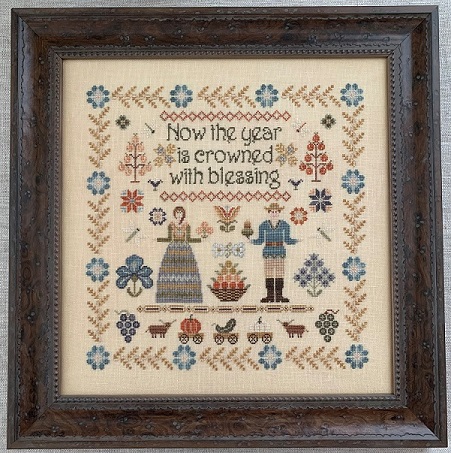 Harvest Hymn by The Blue Flower
The Color of Winter by The Blue Flower (I love this saying)








So, I guess you can tell I was taken with a new designer, The Blue Flower. I really liked her pieces and hope to see more of them in the future.
I did forget to mention the excitement we had Wednesday evening. I had just fallen asleep, and it must have been a deep sleep, because I nearly jumped out of my bed when I heard an alarm going off. At first I thought it was my phone waking me up but started to hear a voice saying "this is an emergency, please leave your room and evacuate the building immediately. So, I had the sense to put on my shoes, grab my coat and purse and head out in the hall. Sara was already there and trying to reach the front desk to alert them we had Sally in a wheelchair and couldn't get her down the steps ( we were on the 7th floor). So we, as well as many others, were hanging over the railings trying to see what the heck was going on!!! Sally, with her usual wit, stated she couldn't go anywhere and would go down with the ship!!! Luckily, an all clear quickly came and we could return to our rooms. I'll admit to having a racing heart at that point and a bit of trouble falling back to sleep. Turns out an employee had accidentally set the alarm of; we heard the fire department was not too happy!
Hope you're all checking websites to see all the new goodies from Market. It takes a lot of work , both pre, during and after market, for these designers to get their work to us. We need to support them, and the shops, as much as possible so we can continue to reap the benefits of their talent.
Thanks for stopping by and your "twisted threads" of friendship!
Stasi